Hello! Today is another book review, this time about Anna and the French Kiss by Stephani Perkins. I originally read this book for my French History class (it was just a fun thing to do for the end of the year) but I had been wanting to read it and I ended up enjoying it a lot! My assignment was to write a review with my feelings on the book which is something I would've done anyways.
And, yes, I know my normal review day is Monday, but I'm writing this for an assignment and sometimes, you just have to bend the rules a little bit. 😉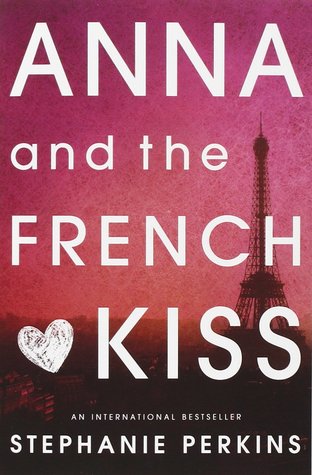 Title: Anna and the French Kiss
Author: Stephanie Perkins
Published: Speak
Edition: 2013 paperback
My rating: *****/***** (5/5)
This book is about a teenager named Anna who is sent to Paris for school by her dad. At first, she hated the idea of living on her own in France, but then she met friends along the way and she found that she actually loved it. Anna also has a love interest in this book who's name is Etienne St. Clair (or just St. Clair), so a lot of the book is Anna trying to figure out her feelings for St. Clair at the same time that she figures out her feelings for France.
I've always wanted to go to France and this book was everything and more for that category. Anna explored France and went to French movies, went to see French museums and architecture, got to try the French food. It was also written so well that I felt like I was there which was fantastic when it came to Anna living in Paris.
I felt like all of the characters were so well thought-out. All of Anna's friends seemed like actual people and the way Anna interacted with them was like I was actually there.
And an explanation for why I gave it five stars is in order. I give a book a star for each of the qualities I love in books (but I also take into account the other qualities to make my final decision). I ask myself if I liked each of the things and then give a star for each. 1 for likable/relatable characters, 1 for the overall plot, 1 for the overall writing of it (like if it was easily readable and flowed nicely), 1 for sarcasm/humor/wit (of course, this doesn't count in all books, but I do love when some characters are sarcastic and the writing has some humor), and the last star would be for if I would re-read it again.
Like I said, the characters were one of the best parts and really made the story come alive, the writing was absolutely beautiful and while I was reading it, it was easy to get encompassed in the story. I loved to be able to see how an American would do in France and that was exactly what Stephanie Perkins gave me when she wrote this plot so that gets a star from me. St. Clair was one of my favorite characters and I found everything he said amusing. Maybe it was the fact that he had an English accent, but I loved him and thought he was funny so it gets a star for humour and wit. Lastly, I would 100% read this again. It was a nice story about romance, adventure, finding yourself in a foreign place, and friendship. What more can you ask for in a book?
There aren't really very many spoilers, so this review is automatically spoiler-free. If you'd like to hear how the full story plays out, you should definitely read it. 🙂
---
Thank you so much for reading and I hope you still liked this even though it was a school assignment! Make sure to follow me so you can be notified when I post new reviews of books!
By the way, for those of you celebrating Thanksgiving tomorrow, have a wonderful day with your families (or your cats- I don't judge) and eat lots of pie (because let's be honest, that's the best part)!
Goodbye for now, wonderful readers and keep writing, loves. 😉